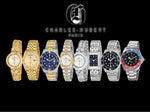 ALL NOVEMBER LONG 15-60% OFF!
Visiting our showroom is a magical experience for our guests! Our new floor plan and all glass viewing showcases makes your experience easier to see our vast jewelry collections of over 2,000 jewelry pieces from wall to wall! Our inventory is always different! We are constantly showcasing new jewelry pieces, handmade from our jewelers or hand-picked from our personal venders from around the world, to guarantee uniqueness or well made classic items that last a lifetime. 


Visit our showroom all November long for our biggest sale of the year! Shop 2 full showcases in our clearance 60% off section and other amazing discounts throughout the room.